Developing unity: The definition of love found in 1 Corinthians 13:4-8 can be divided into three sections or spheres: Acceptance, Humility, and Building Up others. Pride and human anger 'in the flesh' causes one to feel self-righteous and look down on another rather than having humility, there is a tendency to tear down rather than build up, and reject or pull away rather than accept. The three spheres of God's love are the opposite of these negative qualities. When people feel loved and accepted unconditionally and humbly by others they feel safe. They also feel significant because they are being built up in their dreams, talents, gifts, and abilities and their needs are being met. God's love, expressed in this scriptural balance, creates an irresistible attraction. People want to be part of the overflowing of God's love, like in the river of living water found in Ezekiel 47. Others will also want to join in and revival naturally takes place. The cycle repeats itself in everyone's lives. God's transforming love exponentially multiplies creating more love and unity between people who are being transformed and want to bless others with God's supernatural love.
Interactive Venn Diagram: Three Qualities of Love Produce Unity from Brokenness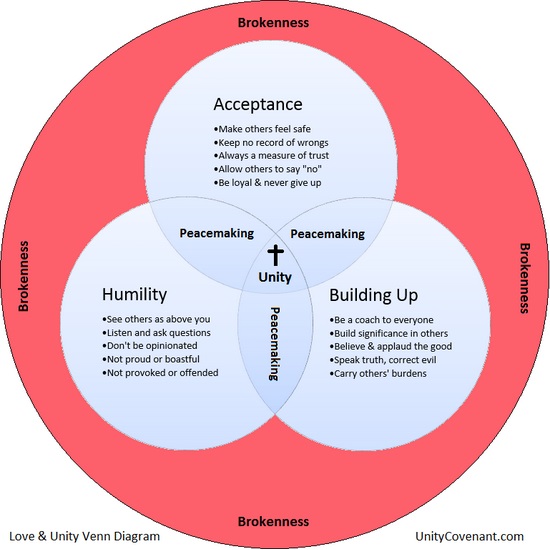 How do we use the Unity Venn Diagram?
In any situation ask yourself the following three questions (while also keeping each of the sub-bullets in mind) and encourage others to do the same: "Am I building up others? Am I being humble? Am I making others feel accepted?"
What would you expect to experience from others in a biblical love/friendship covenant of unity?
ACCEPTANCE: Friends always strive to accept others with no judgmentalism or legalism or preconceived notions just as Christ overlooks our wrongdoing and accepts us as sinners. (Romans 15:7 Accept one another, then, just as Christ accepted you, - NIV; Matthew 5:3&7; Phil. 2)
BUILDING UP: Friends are careful to say and do only what will build up others according to their needs. They are continually edifying one another. (Ephesians 4:29 Do not let any unwholesome talk come out of your mouths, but only what is helpful for building others up according to their needs, that it may benefit those who listen. - NIV)
HUMILITY: Friends are always thinking of others as better than themselves. Any 'leader', even if they have formal seminary training, will be the best example of submission to all others (Ephesians 5:21) and a servant of all and never feels above or behaves above anyone else. Jesus Christ did not come to order people around. He asked questions and allowed people to choose, "If you follow my principles..." Leaders are like the ground that others stand on as they are continually supporting and nourishing the roots of all others. Leadership is not about telling others what to do, it's about serving and overseeing (maintaining the integrity of the scriptures amongst believers). Jesus said, "Do not be called leaders; for One is your Leader, that is, Christ." (Matt. 23:10 NIV) Any friend or 'leader' is like a humble child (Matt. 18:4). Friends see themselves as clay vessels emptying themselves of selfish desires and seeking only Christ working through them to bless and build up others. They quickly forgive any perceived offenses without needing any apology. How could an earthen vessel be offended? (Matthew 5:5&7&10 Blessed are the meek, for they will inherit the earth. - NIV; Mark 11:25 "And when you stand praying, if you hold anything against anyone, forgive him, so that your Father in heaven may forgive you your sins."; 2 Corinthians 4:7; Colossians 3:13; Phil. 2; Proverbs 17:14)
LOVE: Love comes from God. First, we become friends with God by accepting Jesus and then loving God with all of our heart, souls, minds, bodies and strength through the love of Jesus. Worship, prayer, Bible study, and obedience to Christ are the primary ways of loving the Lord. God responds by filling us with more and more love/living water until we are overflowing. Friends then love others with rivers of living water without any conditions (unconditional love) even if others are hurtful or disrespectful to them. Friends are not over-sensitive or easily angered, irritated, envious, self-seeking, nor keep a record of wrongs (i.e.bitterness). They are not rude, boastful, or proud. Friends do not enjoy evil but rejoice in truth. Friends always protect, trust, and hope in their fellow covenant friends and all others. Friends will persevere in love and all good things and encourage others to be loving. (Proverbs 17:17 A friend loves at all times, - NIV; 1 Corinthians 13; Matthew 5:10)
PEACEMAKING: Friends always seek to bring any relationships together in peace and unity, starting with family members and extended family, friends, and co-workers, etc. Even enemies and divisive people can be transformed into peacemakers (Prov. 16:7). Peacemakers never give up on seeking for peace. As a third party, a peacemaker will seek to bring any other pair of people or groups together with each other and also bring all people together with God: Ephesians 1:10 ...bring unity to all things in heaven and on earth under Christ - NIV. Friends will regularly invite others to join this friendship covenant until the entire world is in harmony and at peace with one another under Christ. (Matthew 5:9 Blessed are the peacemakers, for they will be called sons of God. - NIV)
LISTENING & ACCOUNTABILITY: Friends humbly take an interest in others' interests and needs, being considerate, thoughtful, patient, and kind to all others. They ask others for input and correction. They listen carefully and impartially to any communication or correction from anyone else without being defensive, making assumptions, or being opinionated. Friends always try to make sure that others feel heard. Friends empathize and sympathize with others' feelings and keep sensitive matters confidential. (Romans 12:15 Rejoice with those who rejoice; mourn with those who mourn. - NIV; Philippians 2:3; Proverbs 17:9; Matthew 5:4; Phil. 2; James 1:19 Everyone should be quick to listen, slow to speak... - NIV; John 17; Phil. 2; Matthew 18:15-17).
TRUTH & HONESTY: Friends first go alone and privately to any person in order to work diligently to reconcile a relationship if they think someone has done them wrong. Friends are impartial. They do not gossip. If anyone does not try to listen, friends will then bring one or two others, etc., to help with the reconciliation process until mutual friendship is restored in a spirit of gentle love, restoration, tolerance, and compassion. Friendliness and unconditional love need to be restored and forgiveness given first by all sides before the situation or wrongdoing can be restored or reconciled (abusive situations may need a time of separation). Friends seek moral and spiritual purity in a spirit of love with other covenant friends in all things. (Matthew 5:6&8 Blessed are the pure in heart for they will see God. - NIV; Ephesians 4:25; Ephesians 5:3-4; James 5:16).(Ephesians 4:15 ...speaking the truth in love, - NIV; Colossians 3:16; Matthew 18:15-17; Galatians 6:1-2; Matthew 5:23-24).
THOUGHTFULNESS & VULNERABILITY: If friends think that someone may have something against them, they go to that person immediately to reconcile the friendship. Matthew 5:23-24 says that worship of God should even be interrupted because of the first priority of reconciling with others (as true worship) before worshiping God in his house (also see James 5:16).
LOYALTY & SERVING: Friends stay connected and support any other fellow covenant members, who are living according to this covenant, caring for their needs in every possible situation. Friends will spend time serving one another, not legalistically or grudgingly but in a spirit of generosity through God's love as an eternal covenant of loyal friendship, sacrifice, and service. Friends will then also serve others outside this covenant and also invite others to join the covenant. (Acts 2:42-47 They devoted themselves to the apostles' teaching and to the fellowship, to the breaking of bread and to prayer. Everyone was filled with awe, and many wonders and miraculous signs were done by the apostles. All the believers were together and had everything in common. - NIV; Matthew 5:3&5)
TRANSFORMATION: Eternal friends want to be the best friend that they can be to all others. This friendship covenant is for the purpose of promising to love others the way we would like to be loved. All friends voluntarily join this covenant and can freely leave its covering at any time. However, restoration is always assumed. If a friend can't follow all of these covenant principles and treat others accordingly, then it is assumed that they will want to seek help and a spiritual personal transformation process. Otherwise anyone else could also stop following a particular covenant principle without desiring to be the best friend they could be and that would destroy the common trust. Other fellow covenant friends must prove by tangible evidence and reasoning that actual sin has occurred by two or more witnesses through a fair, impartial process that seeks full understanding of all sides. Innocense is assumed (i.e. love always extends belief and trust and the benefit of a doubt in 1 Cor. 13) until proven otherwise. Friends will humbly help with and oversee any restoration and spiritual transformation process in a spirit of humility, equality, reconciliation, love, and compassion. If someone does not listen (i.e. hunger and thirst after righteousness) then the worst consequence will be to treat them as an unbeliever (Matt. 18:15-17) who is loved and invited to be part of the community/unity of Christ's friends. There are layers of unity and trust where at the utmost extent of distrust, love and some trust is always granted. Jesus also had layers of friendship: John; Peter , James, and John; the rest of the 12; the 72; and last of all Judas. (1 Corinthians 1:10 ...be perfectly united in mind and thought.; Romans 12:2 ...be transformed by the renewing of your mind.; 2 Corinthians 3:18; Galatians 6:1-2 Carry each other's burdens, and in this way you will fulfill the law of Christ. - NIV; Matthew 5:3)
What you can do now...
Call us to join the effort for true unity at (617) 825-2000.

Print this page unaltered and keep passing it around. Multiply your efforts by training others to do the same (i.e. viral discipleship!).

Help to spread the word online:
Help other people to join the covenant and then help them to follow it and get others to join.




"With a firm reliance on the protection of Divine Providence,
we mutually pledge to each other our lives, our Fortunes, and our sacred Honor."
- US Declaration of Independence, July 4, 1776

Why would we need a unity covenant?

When God wanted to bless mankind, he made a covenant with Abraham. A biblical covenant is a promise, pledge, or agreement made under God. When God wanted to make a better way for all people to be included in this covenant, he sent his only son Jesus to humbly serve us and die and rise again to change the world with his message of love and forgiveness. Before Jesus rose again into heaven he asked his Father, in John 17:21, that his followers would be perfectly united just as he and his Father were united. The founding fathers of America made a covenant where they mutually pledged to each other under God their lives, their fortunes, and their sacred honor in the US Declaration of Independence. Have we lost a sense of devotion to one another under God as we go about enjoying the pursuit of happiness which was enabled by America's founding fathers' covenant of unity and the covenant of Christ and Abraham?

Jesus said we are no longer servants but friends. Isn't friendship an expression of love and the basis of true unity? The following is intended to be a biblical model of unity based on love and friendship. Would you enjoy being treated by others according to the unity covenant below? We are not talking about going as far as pledging "our lives, our Fortunes, and our sacred Honor" at this point. The unity covenant bar is actually set very low. This is proposed as a new beginning for America and for the body of Christ. Would you want to be a part of true unity under God? Would you like to work together to help bring about powerful change like God brought into the world through Abraham's covenant and Jesus brought through his disciples or like God helped America's founding fathers to bring into the world?

Matthew 5:16 ...let your light shine before men, that they may see your good deeds and praise your Father in heaven. - NIV

1 Thessalonians 5:21 Test everything. - NIV

1 Peter 3:15 Always be prepared to give an answer to everyone who asks you to give the reason for the hope that you have. But do this with gentleness and respect, - NIV

John 3:16-18 For God so loved the world that he gave his one and only Son, that whoever believes in him shall not perish but have eternal life. For God did not send his Son into the world to condemn the world, but to save the world through him. Whoever believes in him is not condemned, but whoever does not believe stands condemned already because he has not believed in the name of God's one and only Son. - NIV